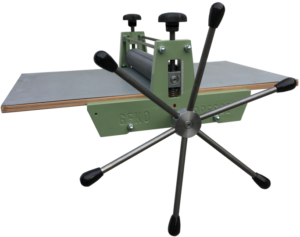 Roller Width

400/500 mm

Ø Roller Top

80 mm

Ø Roller Bottom

80 mm

Table Size

400x700/500x900 mm

Weight

approx. 27,0/33,0 kg

Surface Pressure

approx. 2.500 kg

Passage Height
approx. 30 mm

Reduction

-

DIN Formats

≤ A2

Footprint

approx. 440x460/440x560 mm

Art. No.:

➔ 77247

➔ 77259
Hand printing presses with long press beds for high and low print graphics
Solid machines with extra long press beds, a base made of durable, solid aluminium with a 6-spokes star drive wheel and a thirteen-layer wooden press bed (multiplex) covered with a electrolytic zinc-coated steel plate.
The printing table moves over on both sides slideways made of technically high quality special friction-reducing plastic sheeting. Pressure settings are controlled by spindles with large handles. The force comes from the lower roller. This press is especially suited for wood, linoleum, etc. as well as for etching.
The presses can be ordered in two widths.