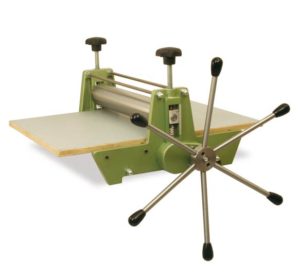 Roller Width

400/500 mm

Ø Roller Top

80 mm

Ø Roller Bottom

80 mm

Table Size

400x700/500x900 mm

Weight

approx. 24,0/35,5 kg

Surface Pressure

approx. 2.500 kg

Passage Heigth
approx. 34 mm
Reduction
1:2
DIN Formats

≤ A2

Footprint

approx. 420x460/420x560 mm

Art. No.:

➔ 77347

➔ 77359
Hand printing presses for high and low print graphics
High quality, solid press with a cogwheel drive to set the lower roller in motion. Also good for etching. The base is made of durable, solid aluminium with a lacquer finish.
The wooden press bed is made from 13-layer multiplex and is reinforced by an electrolytic zinc-plated steel plate. It glides frictionless and precisely on eight casters. Roller pressure is initiated by spindles with pressure springs. The force comes from the lower roller. Even by the highest roller pressure, the press is easy and safe to operate because of its cogwheel drive mechanism.
The presses can be ordered in two widths.