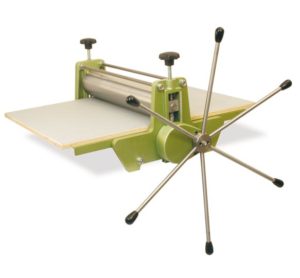 Roller Width

400/500/600 mm

Ø Roller Top

120 mm

Ø Roller Bottom

120 mm

Table Size

400x800/500x900/600x900 mm

Weigth

approx. 52,0/68,0/75,0 kg

Surface Pressure

approx. 3.500 kg

Passage Heigth
approx. 36 mm
Reduction
1:2
DIN Formats

≤ A1

Footprint

approx. 400x470/400x570/400x670 mm

Art. No.:

➔ 77447

➔ 77459

➔ 77469
Extra heavy hand printing presses for high and low print graphics
The presses in the HDZE series are high quality, robust, top machines powered by a cogwheel drive connected to the lower roller.
Both rollers have diameters of 120 mm and operate in bearings. The base is made of durable aluminium (aluminium-silumin alloy).
The wooden press bed is made of 13-layer multiplex enforced with a electrolytic zinc-coated 1mm thick steel plate. It slides on two side guiding tracks. Roller pressure is initiated by spindles with pressure springs. The force comes from the lower roller. Even by the highest roller pressure, the press is easy and safe to operate because of its cogwheel drive mechanism. It is powered by a 6-spoked wheel.
The hand wheel, with its six extra long spokes, and cogwheel features cannot be matched by any other product in its size class, and provide for extremely comfortable handling.
The combination multiplex – steelplate over 40 years of experience in building presses has shown that the use of steel plates for the print bed is an extraordinarily stable and high quality solution.
Presses can be ordered in three widths.