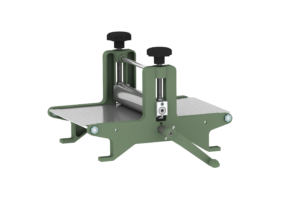 | | |
| --- | --- |
| Roller Length | 250 mm |
| Ø Roller top | 50 mm |
| Ø Roller bottom | 40 mm |
| Table Width | 260 mm |
| Table Length | 500 mm |
| Weight | approx. 12,0 kg |
| Surface Pressure | approx. 1.000 kg |
| Passage Heigth | approx. 54 mm |
| Reduction | - |
| DIN Formats | ≤ A4 |
| Footprint | approx. 300x320 mm |
| Art. No. | 77125 |
Linoleum presses for schools, workshops and hobby artists
The focus in the development of the PL 250 press was placed on a cost effective solution for the customer who gets a perfect entry-level model with this press. This press has the same advantages as the PL 300 model and has a printing plate for A4 size.
It is an ideal device for school and the hobby artist. The side parts are made of heavy-duty, dimensionally stable cast aluminum. The lower roller is operated with a long hand crank and is knurled for better grip. The distance and the pressure of the massive steel rollers is regulated by two large threaded spindles. The upper roller is spring-loaded and adapts to the unevenness of the material. The press is ideal for material prints (with fabrics, cork, wallpaper, feathers, pelts, metal, leaves, grasses, etc.). 
The pressure carriage is formed by a 2.5 mm thick galvanized sheet thatslides  on the connecting rods.
Matching Printing Felts:
XXXXX Felt Blanket, soft 5x240x900 mm white
XXXXX Felt Blanket, hard 3x240x900 mm marbled