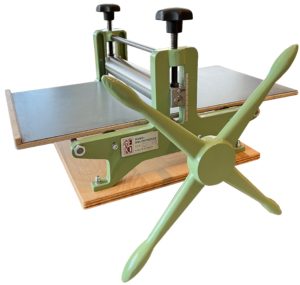 | | |
| --- | --- |
| Roller Width | 300 mm |
| Ø Roller top | 50 mm |
| Ø Roller bottom | 40 mm |
| Table Width | 300 mm |
| Table Length | 600 mm |
| Weight | approx. 15,0 kg |
| Surface Pressure | approx. 1.000 kg |
| Passage Heigth | approx. 45 mm |
| Reduction | - |
| DIN Formats | ≤ A3 |
| Footprint | approx. 370x400 mm |
| Art. No.: | ➔ 77136 |
Linoleum presses for schools, workshops and hobby artists
The PL 300 is an ideal press for schools and hobby artists. The side bases are made of sturdy, solid aluminium. The lower roller is powered by a 4-star drive wheel and is knurled for better grip. The distance and the pressure of the massive steel rollers is controlled by two large spindles. The top roller is spring-supported and can adapt to the unevenness of the materials. The presses are perfect for material printing (fabrics, cork, wallpaper, feathers, pelts, metal, leaves, grasses, etc.).
The printing carriage is made up of a 9-layered wooden press bed (of multiplex) and a electrolytic zinc-coated steel plate that slides precisely and frictionless on 4 casters. The PL 300 is delivered on a solid lacquered wooden plate.
NEW developed lifting system of the top roller to prevent a permanent lying on the top roller on the pressure plate. At the same time clear relief when inserting the pressure plate in the press.