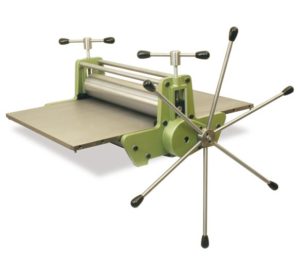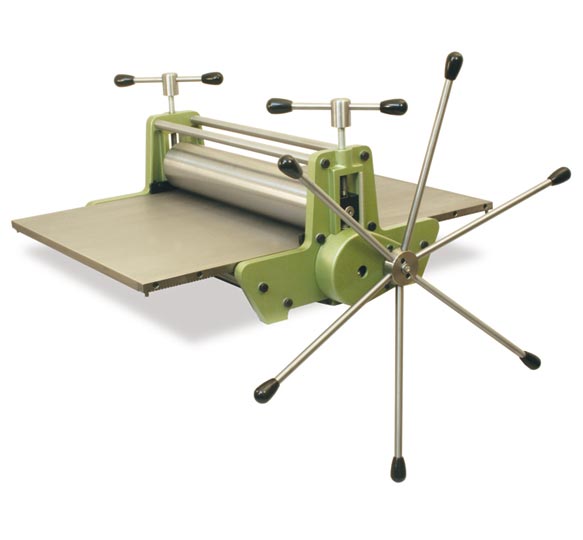 Roller Width

400/500/600 mm

Ø Roller Top

120 mm

Ø Roller Bottom

80 mm

Table Size

400x900/500x900/600x900 mm

Weigth

approx. 110,0/126,0/150,0 kg

Surface Pressure

approx. 5.000 kg

Passage Height
approx. 56 mm
Reduction
1:2
DIN Formats
≤ A1

Footprint

approx. 400x500/400x600/400x700 mm

Art. No.:

➔ 77549

➔ 77559

➔ 77569
All-round Printing Presses/Etching Presses
The presses in the SDZ series are ideal for all print techniques.
They were originally intended for etching due to their press beds that won't rust, however have proven themselves to also be ideal for soft materials that cannot handle high pressure (Styrofoam and corrugated board). Etching, low printing, linoleum, wood, every type of material printing, multiple colour printing: this allrounder among the GEKO presses covers all printing techniques with the highest precision.
The presses are controlled by toothed rack drives on both sides of the massive steel carriage and a cogwheel drive for the lower roller. The steel press bed is parallel and precision-planed on both sides with a strength of 20mm. (The base is constructed of high quality aluminium (aluminium-silumin alloy), that offers advantages to the cast iron used in our other models (less weight, higher solidity, high material durability, long life, no bubbles, etc.).
The presses have a 6-spoked steel wheel. This mechanism ensures ease of use even by the highest pressure settings. The toothed rack drives on both sides provide for absolute accuracy during operation of the heavy steel press beds. Pressure settings are controlled by spindles with large star handles.
The presses can be ordered in three widths.