Room for Innovation and Change
More than 50 years of experience distinguishes our printing presses from the rest. We make innovation and change a priority. Convince yourself:
Lifting system to prevent the top roller from resting permanently on the pressure plate. At the same time, it is significantly easier to insert the pressure plate into the press.
> Details
The HD series has undergone technical changes. The technical data and dimensions are unchanged.
> Details
GEKO etching needles have an extra strong reinforced tip and knurled base for better grip. Suitable for all etching techniques. Optimal handling ensured through top quality
> Details
High quality GEKO stock press with a solid steel printing surface. The printing surface is precision-planed on both sides. This heavy solid steel design is perfect for all book binding and pasting, as well as woodworking and print graphics.
> Details
New in our product line is the extra stable steel stands for GEKO presses. The stands are extremely durable, robust, and finished by hand.
The optimal supplement to your GEKO press.
> Details
Our SDZ series is now available with professional handles.
These handles are made of massive steel and durable thermoplastic, facilitating the setting of pressure resistance for the SDZ models.
Positioning the rollers on heavy steel printing presses becomes childish play.
> Details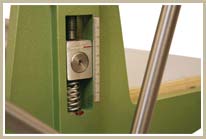 New gauges for all GEKO presses
With the help of new gauges on both sides of the presses, the space between the rollers can be set precisely to the millimetre, allowing the pressure on both sides to be accurately determined and the optimal resistance to be easily set.
Additional Products in planning.